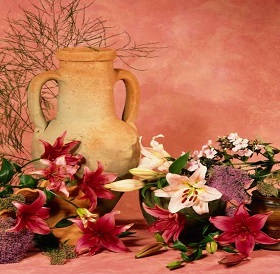 2 Timothy 1:
9 God is the one who saved and called us with a holy calling.
This wasn't based on what we have done,
but it was based on his own purpose and grace that he gave us in Christ Jesus before time began.
10 Now his grace is revealed through the appearance of our savior, Christ Jesus.
He destroyed death and brought life and immortality into clear focus through the good news.
11 I was appointed a messenger, apostle, and teacher of this good news.
12 This is also why I'm suffering the way I do, but I'm not ashamed.
I know the one in whom I've placed my trust.
I'm convinced that God is powerful enough to protect what he has placed in my trust until that day.
(Common English Bible)

Many of us human beings are genuinely good people.
So it comes as a shock to us that when God saves us and calls us with a holy calling, it is never based on the good things we have done!
In other words, I can never impress God with my own goodness and right living!
Wow! What a discouraging thought, you might say.

But, the upside of not needing to impress God with my goodness, is that I don't have to perform right to get Him to love me.
That's because God loves me right now, and He has always loved me.
God has made salvation and His calling available to me, based on His own purpose and loving-kindness shown us in Jesus Christ.

Many people mistakenly believe that Jesus Christ began when He was born in the manger.
But this scripture says that Christ existed before time began!
The Apostle John calls Christ, THE WORD, and describes Him this way:
John 1:
1 In the beginning was the Word and the Word was with God and the Word was God.
2 The Word was with God in the beginning.
3 Everything came into being through the Word, and without the Word nothing came into being.
What came into being
4 through the Word was life, and the life was the light for all people.
5 The light shines in the darkness, and the darkness doesn't extinguish the light.
(Common English Bible)

And the Apostle Paul helps us to understand Christ further in this way:
Philippians 2:
5 Adopt the attitude that was in Christ Jesus:
6 Though he was in the form of God, he did not consider being equal with God something to exploit.
7 But he emptied himself by taking the form of a slave and by becoming like human beings. When he found himself in the form of a human,
8 he humbled himself by becoming obedient to the point of death, even death on a cross.
9 Therefore, God highly honored him and gave him the name above all names,
10 so that at the name of Jesus everyone in heaven, on earth, and under the earth might bow
11 and every tongue confess that Jesus Christ is Lord, to the glory of God the Father.
(Common English Bible)

Jesus Christ is The Word, the God-man, who came to the earth as a human being, so that we would understand what God's attitude is to human beings: how God views human beings.

I can receive the wonderful salvation and calling of God for my life, by resting the whole weight of my life - past, present and future - on Jesus Christ. I can know God by fully trusting in Christ for myself.

Prayer:
Father in heaven, today I understand that I don't need to impress You with my goodness in order to get You to love me.
I rest the full weight of my life in Jesus Christ and trust Him with all my heart.
Lord Jesus Christ, teach me to know You fully.
Thank You for Your salvation and calling coming to life in me right now,
through Jesus Christ my Lord,
Amen.