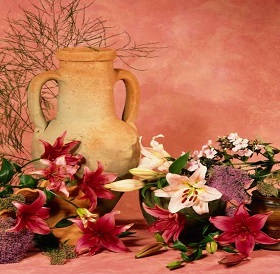 Romans 10:
5 For Moses writes that the law's way of making a person right with God requires obedience to all of its commands.
6 But faith's way of getting right with God says, "Don't say in your heart, 'Who will go up to heaven' (to bring Christ down to earth).
7 And don't say, 'Who will go down to the place of the dead' (to bring Christ back to life again)."
8 In fact, it says, "The message is very close at hand; it is on your lips and in your heart." And that message is the very message about faith that we preach:
9 If you confess with your mouth that Jesus is Lord and believe in your heart that God raised him from the dead, you will be saved.
10 For it is by believing in your heart that you are made right with God, and it is by confessing with your mouth that you are saved.
11 As the Scriptures tell us, "Anyone who trusts in him will never be disgraced."
12 Jew and Gentile are the same in this respect. They have the same Lord, who gives generously to all who call on him.
13 For "Everyone who calls on the name of the LORD will be saved." (New Living Bible)

The Apostle Paul came from a background of strict religious observance, and he was one of its chief exponents.
He was violently opposed to the Lord Jesus Christ and the Good News of being put right with God through Jesus Christ.
You can read how he met Jesus Christ in the column on the right.

When he fully surrendered voluntarily to the Lord Jesus Christ as Saviour, the Bible says that something looking like Fish Scales dropped from his eyes. These fish scales represent all the layers of blindness that were keeping Paul from seeing Jesus.

We all have our own layers of fish scales which keep us from recognising who Jesus is. These fish scales cause us to discount the importance of the salvation that is available in Jesus Christ.
So what did Paul understand when the fish scales fell from his eyes. The verses from his letter to the Romans quoted above tell us the first things that became crystal clear to Paul then:


we can become right with God through faith - verse 6

you need to confess out loud with your voice, that Jesus Christ is Lord - verse 9

you need to believe in your inner person that Jesus Christ died on the cross, and that he came back to life - verse 9


when you believe in your inner being that Jesus Christ died and came back to life, you are made right with God - verse 10


when you say out loud with your voice that Jesus Christ is your Lord, you receive God's wonderful salvation into your life - verse 10

when you rest the full weight of your life in Jesus Christ you will never regret it and be disgraced - verse 11

this salvation in Jesus Christ is available to every human being: God does not care if you are of strict religious observance like Paul, or whether you consider yourself to be far from God - verse 12

God wants every humanbeing, including YOU, to come into this salvation by calling on the name of the Lord Jesus Christ - verse 13

You can have this wonderful salvation through Jesus Christ right now.
So don't wait a moment longer to get rid of the fish scales.
Click here for a prayer to help you call on the Lord right now.