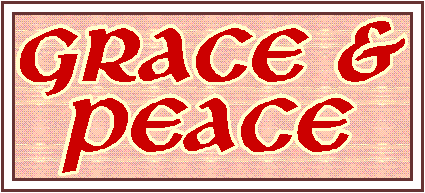 The Bible says, in 1 Peter chapter 1:
1 From Peter, apostle of Jesus Christ.
To God's chosen people who live as refugees scattered throughout the provinces of Pontus, Galatia, Cappadocia, Asia, and Bithynia.
2 You were chosen according to the purpose of God the Father,
and were made a holy people by his Spirit,
to obey Jesus Christ and be purified by his blood.
May grace and peace be yours in full measure.
(Good News Bible)

Peace is

the absence of war

harmonious relations

absence of mental stress or anxiety

a sense of inner security

treaty to cease hostilities

repose and serenity.

Because of the sacrifice of Jesus Christ on the cross and His rising again from the dead,
God is free to pour out His peace upon us in generous measure.

Jesus Christ brings an end to the big separation between human beings and God, so that we are not free to go into God's presence and speak with Him at any time.

This means that because issues between God and me have been settled, I can be free of mental stress and anxiety, and this gives me a sense of inner security and serenity.

This is true peace! And it is mine through the wonderful grace of God!

Prayer:
Heavenly Father, thank You for loving me so much
that you gave me Your grace and peace,
so that I can be secure in You.
Today I place my trust in You
and ask that You pour out
Your grace and peace upon me,
as I pray in the name of Jesus Christ,
Amen.
See you tomorrow, God willing,
when you'll find a new thought here to challenge you!
Meanwhile, have a great day walking with the Lord!