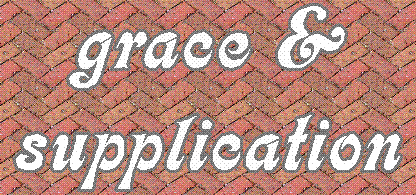 The Bible says in the book of the Prophet Zechariah, chapter 12
10. "And I will pour on the house of David and on the inhabitants of Jerusalem the Spirit of grace and supplication; then they will look on Me whom they have pierced; they will mourn for Him as one mourns for his only son, and grieve for Him as one grieves for a firstborn.
Supplication is a kind of prayer which includes
acknowledging sin,
giving thanks,
asking God's help, provision and protection,
and praise and adoration.

It takes the grace that God gives to pray the prayer of supplication faithfully.
Then the Prophet says that the inhabitants of Jerusalem will finally recoginse the Lord Jesus Christ whom they put on the cross and pierced in the hands, feet and side and then they will finally change their attitude to Him. However, we need to move beyond grief and mourning, to placing our faith in the Lord Jesus. Though He was pierced on the cross, and died there, He is risen again and is now seated in the place of honour in God's throne.
Prayer:
Heavenly Father, today I place my faith in the Lord Jesus Christ.
I believe that though He died on the cross,
He is now risen again
and seated in the place of honour in God's throne.
Thank You for giving me
the Spirit of grace and supplication
so that I can learn how to approach You in prayer
the way You want me to.
Thanks again,
in the name of the mighty Lord Jesus Christ,
Amen.
See you tomorrow, God willing,
when you'll find a new thought here to challenge you!
Meanwhile, have a great day walking with the Lord!