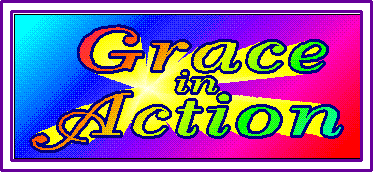 2 Corinthians 8:
9 For you know the grace of our Lord Jesus Christ, that though He was rich, yet for your sakes He became poor, that you through His poverty might become rich.
NKJV
It took true grace working in His life, for the Lord Jesus to be willing to lay aside the riches and glory of heaven, to come to earth and limit Himself to being a simple human. And then He didn't come to earth as a rich human either!
The Lord Jesus, in taking on humanity, became poor in every sense of the word.

What would cause Him to want to do such a thing?
In a word: LOVE!
The Apostle John, puts it this way in his most famous verses:
For God loved the world so much that he gave his only Son so that anyone who believes in him shall not perish but have eternal life.
God did not send his Son into the world to condemn it, but to save it.
John 3:16-17 (TLB)

Jesus Christ, coming to earth as a human being, willing to die a shameful death in our place on a cross, and then rise from the dead after three days:
THAT'S THE GRACE OF GOD SPOKEN LOUDLY!
Prayer:
Father, thank You for Your grace, poured out upon me, a mere human, through the love of Jesus Christ,
my Saviour and Lord,
Amen.
See you tomorrow, God willing,
when you'll find a new thought here to challenge you!
Meanwhile, have a great day walking with the Lord!